Last week we started a pilot project: a Meminto Stories course at a local seminary. We had planned it with three participants, but five came – and all of them already had a story with them, which was to become a printed book. The two evenings, during which the participants were asked to remember their lives by asking questions, were also a lot of fun for us. 
The idea of a course at an adult education center
The idea of a Meminto Stories course at the local seminary came about when we saw that there were also courses for the CEWE photo book at community colleges. "So why not just offer a course in writing biographies using our great software?" – that was the immediate thought that matured more and more in our minds. After all, Meminto Stories can help people's memories and experiences within their long lives become clear again by asking direct questions about many situations in life, one's family and the past.
How the course went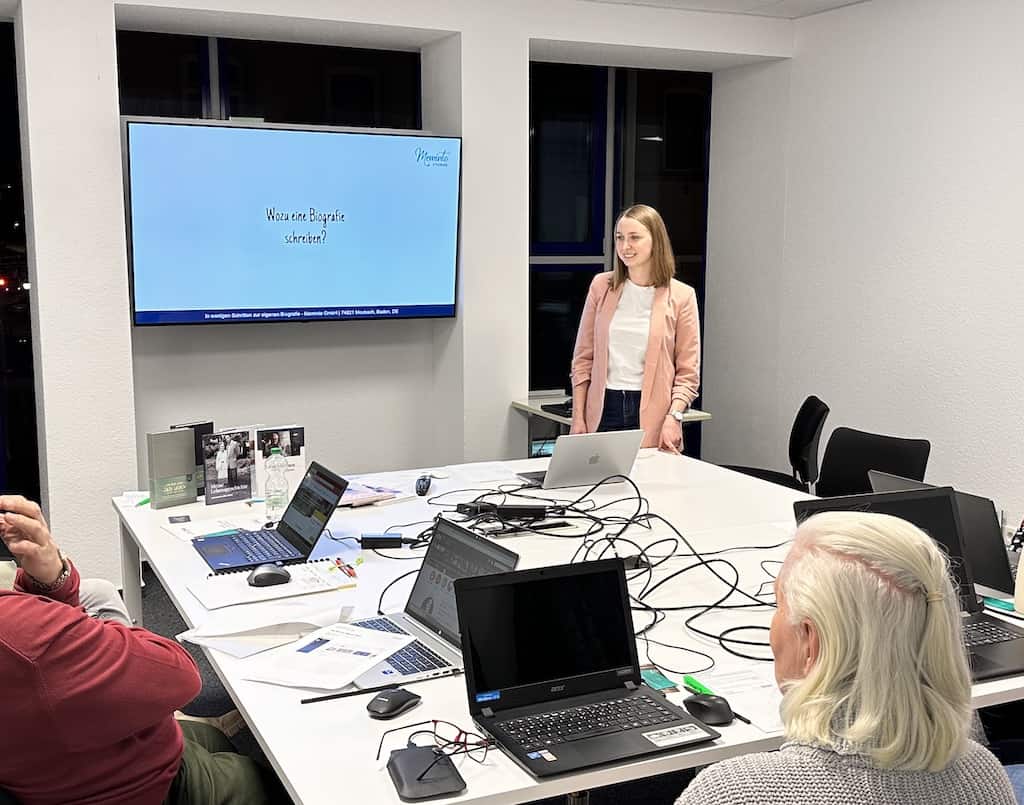 On two evenings in February, we, Kathrin Markwart and Albert Brückmann, introduced Meminto Stories, equipped with a presentation that looked at new and old ideas about writing biography in a book. It was important for us to show how easily Meminto Stories gets all the problems out of the way so that authors only have to focus on writing. In between the theory content, the participants also kept sharing stories from their lives, so the whole atmosphere quickly felt familiar. 
Participants learned quickly and were able to use their own accounts by the end of the first session (each evening was scheduled for two hours). Over the next few days, this allowed them to capture their first stories in the form of responses and give their project a framework. A week later, we met again to discuss any problems or difficulties.
Poll: Should Meminto offer an online seminar for everyone?
No course without challenges
One particular challenge, for example, was that most of the participants did not want to answer Meminto's questions at all, but had their own precise ideas regarding the content. For this case, we had made a change in the system between courses. It is now possible to delete all unanswered questions from an existing book in one go. New categories could then be created as these would map the table of contents.
We have also learned in our own course
Even in the first session, it was clear that feedback from real users was valuable. We were able to adapt the system to real requirements. Of course, we also often receive tips by e-mail from Germany and the USA on how Meminto Stories can be improved. But up close, such feedback is something else. The participants were especially pleased that we were able to incorporate their suggestions for improvement directly into the software. With large photo book providers, you usually wait weeks or even months for such a service.
What's next?
In the spring, another course will be offered at the Adult Education Center in Mosbach, possibly also at another seminary in the region. Here we will use the knowledge we have gained to help new participants create their own book, which will be guided by questions. Feel free to contact us if you would like to be part of it. This course also makes a wonderful gift for mom, dad, grandpa or grandma.
We will announce all information about the fees soon.