Give a piece of immortality.
Meminto helps you and your loved ones write your own book through weekly prompts. During this reflective journey, you will learn new stories about your loved ones and grow closer together.
A Meminto enables your loved ones to...
…remember long forgotten moments of life…
… capture memories weekly as if they happened yesterday….
…create a remarkable, multimedia keepsake during a year long journey, that will never be forgotten.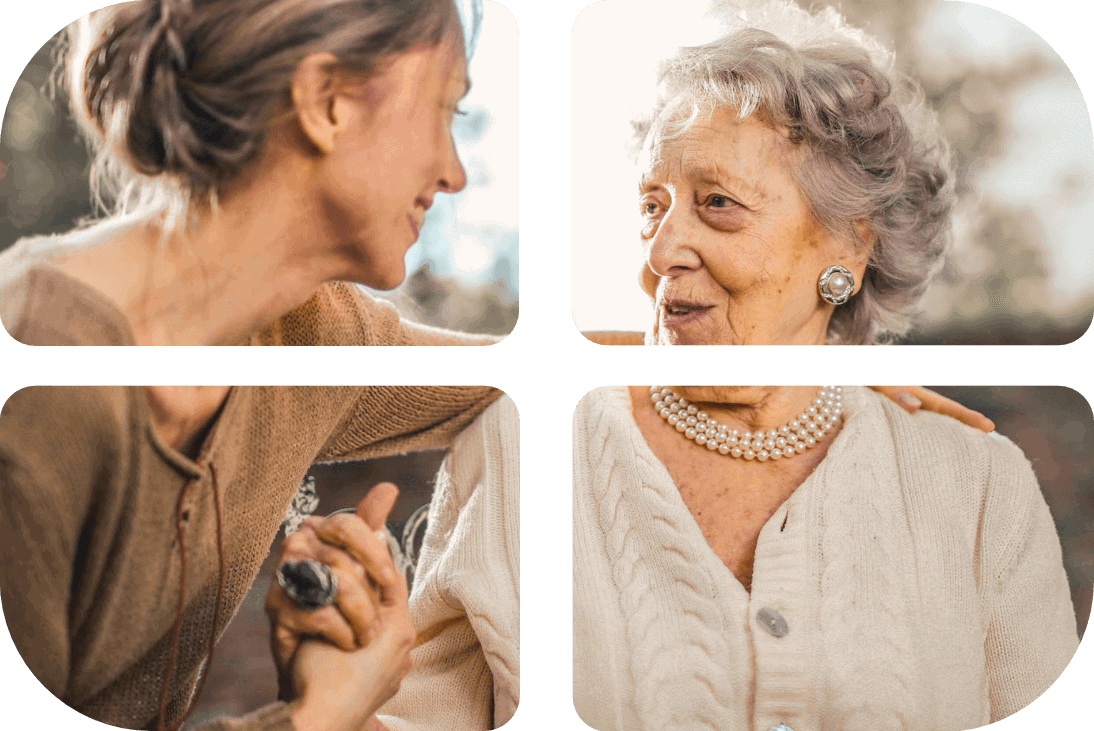 Why is a Meminto so valuable?
Want to give a present that will be remembered for a lifetime? A Meminto is the perfect choice! Give your loved ones the opportunity to record their life story in a unique way. Meminto is also available as a version with questions about the personal Christian faith.
Meminto makes remembering a pleasure. Whether it's childhood memories, adolescent adventures or adult milestones, Meminto guides you through every stage of life, asking inspiring questions and capturing the most precious memories, stories and photos.
By emailing a question every week for a year, creating the book becomes a breeze and is completed in a year at the latest. Of course, answering all the questions directly also makes it faster.
The main thing that makes it unique is the multimedia content that finds a place in a Meminto: Videos and voice memos not only bring memories into the book, but also bring them back to life from it. They can be played back via any smartphone with a QR code printed under each story.
Give the gift of time travel through life, and let your loved ones discover their personal history. Meminto – The gift idea that stays in your heart forever
Life writes the best stories.
This is how your Meminto can look like!
For mom, dad, grandma and grandpa. And even for yourself.
Everyone becomes an author with a Meminto!
ℹ️ Here's how it works:
We ask our participants 52 questions about their lives. These come either once a week by e-mail or can also be answered in one go, just as you wish.
The answers become the chapters of a book full of life stories.
After the storytelling, up to 250 pictures and additional audios and videos can be uploaded.
About 16-20 days later, the recipient will hold in his or her hands a truly unique book with the best memories of his or her life.
You can see examples of our questions and how they are asked below!
Pages
100, 200 or 300 pages
Media
Photos, Audio and Video
Call function
without a screen
Record memories also by voice - on the phone!
Our Meminto telephone system can call the person you have given the gift to once a week at the desired time and asks the next question. We print the answer via QR code in the book and also convert it into written text!
1.
Meminto calls with question
3.
We'll print it in the book
Meminto Stories Explainer Video "Life Stories"
Three steps to your own Life Book
Step 1

Give as a gift

They will get access to all the questions that will remind you of your own life.
Step 2

Answer questions

One per week or all at once: this is how the chapters of the book are created.
Step 3

Receive your book

After choosing a cover design, we will print the book.
What are the questions waiting for you?
How did your parents choose your name? What was the deciding factor?
Did you always get along well with your siblings?
What is your favorite childhood memory?
Were you involved in any organizations while in school?
What advice should you have taken to heart from your parents?
What was it like for you to learn to drive?
What were your favorite classes at the university?
Have you ever had the thought of joining the armed forces?
What advice would you give your great-grandchildren?
How Meminto users become heroes
Barbara, 79
preserves memories of her mom
"We started a Meminto when my mother was still alive and we made a lot of audio recordings. Now I listen to it from the book every time I miss her. The Meminto team has faithfully helped for over a year. It was fun!"
Werner, 68
Attended a Meminto course
"With just one question per week, I was able to record my life story. That was a lot of fun! I am proud of my book and am already preparing the second book."
Viktoria, 94
answered questions on the phone
"Together with my son I have been able to record almost a century of history. We have created 16 books in German and seven in English. My family lives widely scattered. They were very happy."
Will, 68
wrote hundreds of pages
"I wrote my Meminto Stories book mainly as a keepsake for my grandchildren and great-grandchildren. Not only was it a breeze to do, but it was a lot of fun."
Maria, 63
wrote no less than two volumes
"At the beginning I had the idea to write down my life story for my children and grandchildren. Thanks to Meminto's questions, my story became colorful and multifaceted. During the editing process, the Meminto support was always quick, friendly and competent to answer any questions. Now I am happy to have 2 volumes with a total of more than 300 pages."
7 Days
Money-Back Guarantee
Give away now or start it yourself!
Choose a suitable e-card or one of our gift boxes.
We will take care of the timely delivery by mail or post!
Frequently asked questions
Quick answers to some questions you may have. Couldn't find what you were looking for? Check out our helpdesk.
How does Meminto work in detail?

After purchasing your book theme, you (or the person receiving the gift) will get an activation code from Meminto, which you can enter here. Afterwards we will select 52 personal questions from our large question collection, which you can change, delete or replace indefinitely. You can also set your own questions!

Each book can hold 250 pictures in addition to the answers, which can then be printed in color on up to 300 pages (or even more, but please contact us on this) in your book.

To make sure you don't forget anything, Meminto can email you a question every week or remind you with push notifications from the app. 

Together with family and friends, Meminto is the most fun. Invite them to join you and watch as your book magically fills with stories that even you didn't know existed!

After choosing a cover design, the book goes to print. About 12-20 days later you can hold it in your hands and proudly call yourself an author!
What happens after one year is over?

As you already know, each book starts with 52 selected questions. Every week – for one year – we will send the next question as an impulse by email, if you wish.

After this year you can continue to work on your book, but you will not receive any more e-mails.

For a fee of $16,90 this weekly motivation can be extended for another year.
Are entered texts edited before printing?

We do not make any changes to the content of your answers and stories, but print what you have written. 

Before you send your book to print, however, you have the option of booking a proofreading service. We will correct typos and spelling mistakes. The costs for proofreading are based on the amount of text to be checked and will be displayed transparently.
How will my privacy be protected?

Your privacy is very important to us. No one can see your answers unless you share them yourself. If you still want us to help you, you must allow access beforehand.

Even if you fill out your book together with other participants, you can set for each answer whether it should be visible only for you or for everyone.

Additionally, our 2-factor authentication protects your account. Even if your password is hacked, no one can log in to your account that easily.
How much does a Meminto book cost?

Each Meminto Stories book is absolutely unique and therefore something very special and personal. 

Depending on which story you want to record, you will always find the prices for our books directly in the respective topic. So first select what you want to write about and then scroll to the section where you can order.

You can choose between a different number of pages for the book, add additional copies and also a digital copy. This ultimately affects the total price, which can be slightly different for each book.
Will the person receiving the gift (or me) really make it?

Yes! You can do it! Why?

Because it's fun and enjoyable to reflect back. You'll be amazed at what you remember!
Because we can remind you every week to answer the next question. So you don't miss anything and stay in the loop.
Because you only need 2-6 minutes to answer a question. You can do it almost anytime and anywhere, even from your smartphone.
Because our books are designed according to fixed templates. You can make simple changes, but you won't get lost in perfectionism.
Because the anticipation is great to hold your own book in your hands and show it to family and friends.
Because thousands of others (to be exact: 10703!) have done it before you and written down 30745 stories. And why should they be able to do something that you can't?Just get started now!
Is it possible to test Meminto beforehand?

Yes it is! We want you to know exactly what to expect and be truly satisfied.

You have the opportunity to start a free mini-book here. Instead of 52 questions, we'll pick nine for you to start with. If you like how we remind you of situations you may have forgotten and you are comfortable with the Meminto software on your desktop PC or smartphone, you can also upgrade directly.
Give your loved ones a Meminto Stories book and let them choose for themselves. You can print out our great vouchers for this purpose!
One day baby, we'll be old
Oh baby, we'll be old
And think of all the stories that we could have told...