The memory book for a loved one
A memento of a very special person.
1 printed copy,
each additional from $49,-
incl. tax and shipping
The Meminto Stories memory book allows you to pay special tribute to the life of a loved one by recording it in a book.
Through direct questions, we guide you through the life of the deceased person and bring out memories that you thought were long forgotten. 
⭐️ ⭐️ ⭐️ ⭐️  by Harald, 35
"My wife passed away from cancer last year. I created this book so that my two young children would know exactly who their mom was for once. Due to the large number of well-chosen questions, I didn't forget anything I wanted to write down. Many friends wanted a printed copy afterward, too."
⭐️ ⭐️ ⭐️ ⭐️ ⭐️  by the Wilkerson Family from Boston
"We have created a memory book about our dear grandma and mother. We liked very much that the whole family could participate and everyone recorded their very own memories with her. Whenever a new story was added by someone, the others were informed. So even the creation of this book was an experience."
Book format: DIN-A4 (8.3 x 11.7″) or DIN-A5 (5.8 x 8.3″)
Paper type: 150g nature paper matt
Number of pages: Up to 200 colored inner pages (4/4 color)
Get access to your personal collection of questions

and start answering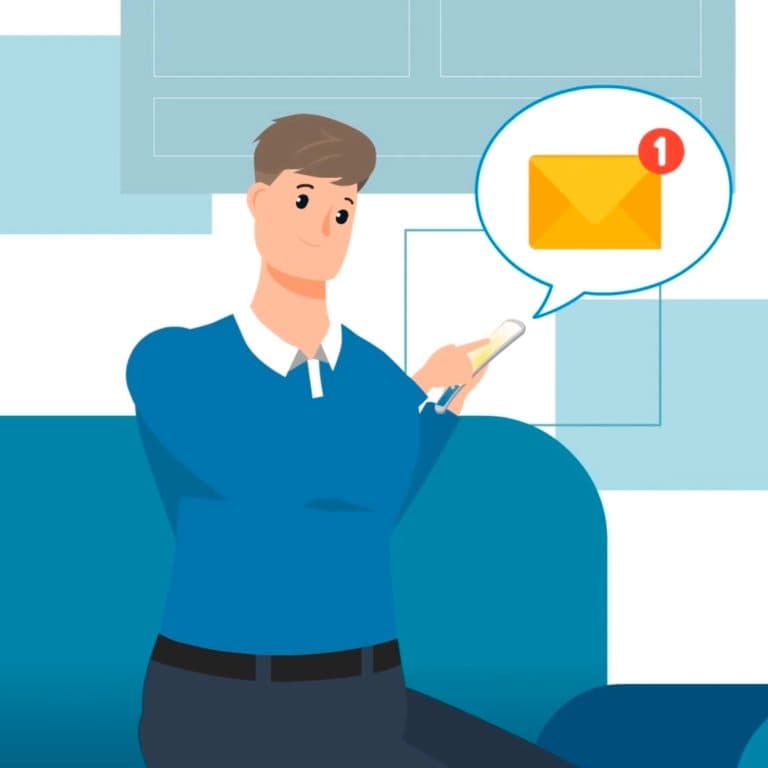 So you don't forget anything:
Meminto reminds you to keep going.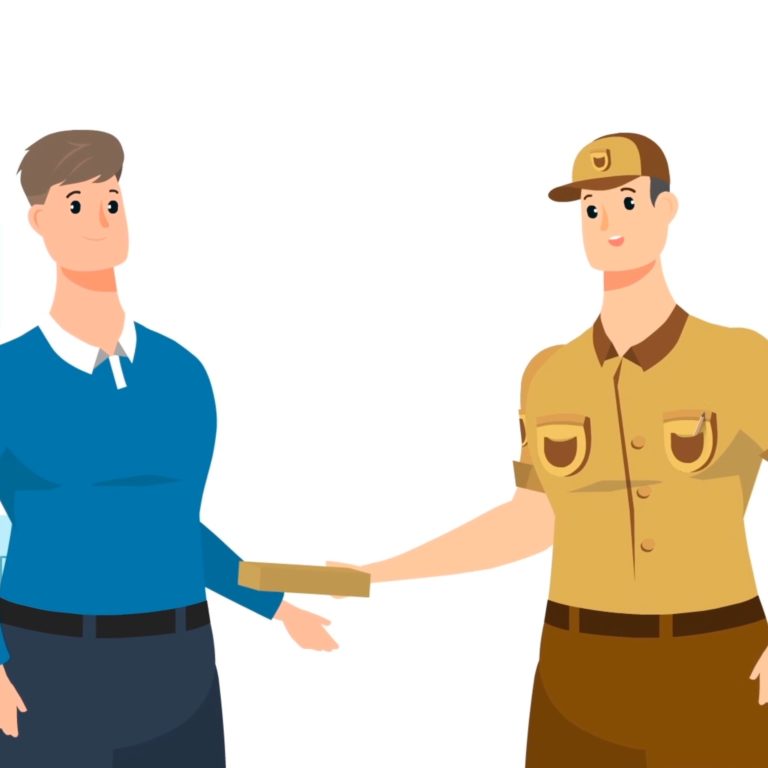 You're done? We send your printed book to you
or as a gift to someone else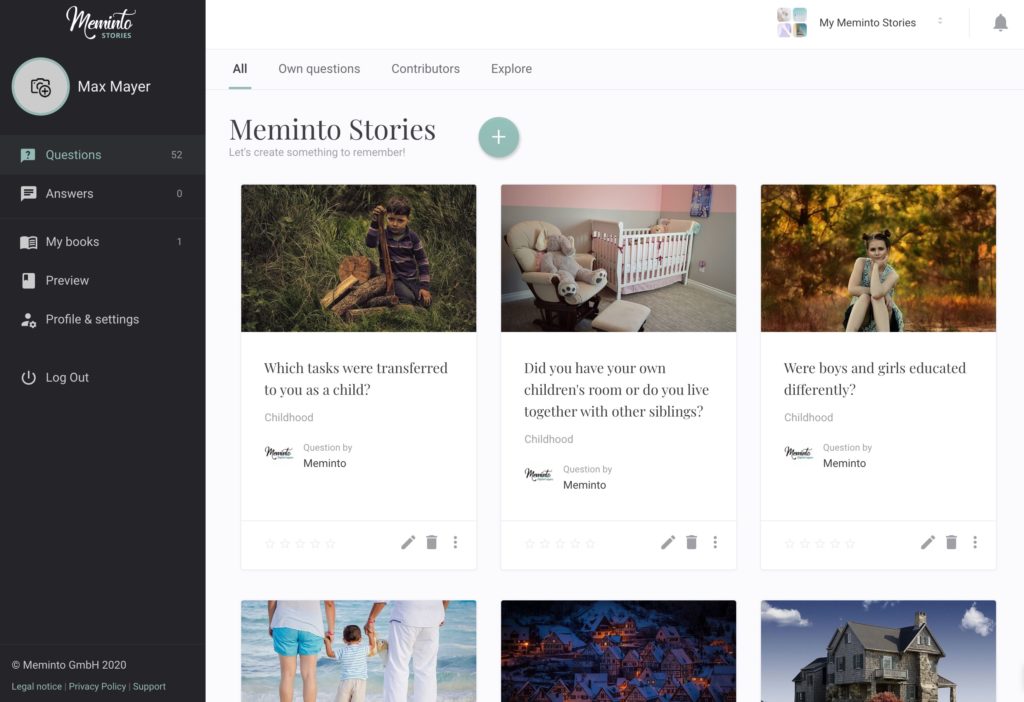 After your registration, you will be taken directly to your personal question selection. First of all, these are 52 questions out of hundreds that we have compiled for you based on a short interview. You can delete them at any time and replace them with others. Or rewrite them so that they fit better to your life situation. You can also create your own questions to which you can then tell your stories.
Other people you have invited as participants can also create questions for you. In this way, each book becomes truly unique because it represents exactly one story: Yours!
Your book could look like this 🙂
...love the recovered memories.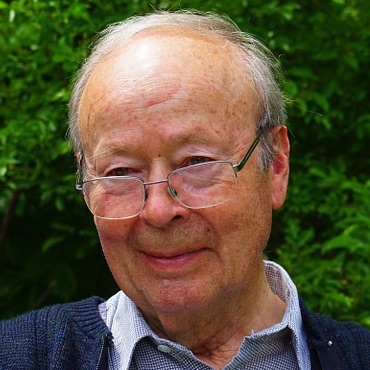 Hans-Martin
Always wanted to write a book
I have been looking for a long time for a way to write down my life story. But there was always a lack of organization and structure. Meminto Stories guided me well through the process, with questions that I would never have thought of myself. After four months, it was finished, and it just went on the side. Very well done, I recommend it!
Karin
Helped her grandma and got closer to her
I gave the book of life to my grandmother and made it together with her. Especially the aspect that I was able to ask grandma my own questions makes it so exciting. My grandmother also had fun because she noticed that we were really interested in her and filled out the book together. In the end we printed several of them, for the whole family and she gave one to each of the grandchildren.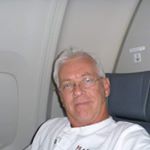 Georg
Got Meminto Stories for the 60th from his wife
At first I really didn't understand it, but relatively quickly it became clear: "Aha, so here I get questions about my life, answer them directly on the cell phone and in the end it all becomes a book! Cool idea, really personal. With some questions I have to think about it, because I don't know everything anymore, but when I look at old photos I remember some things. I just take the pictures with my smartphone, add them to the story and then go on to the next question. It's really easy.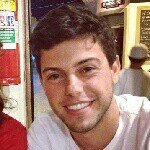 Julian
wanted to know more about the life of his grandpa
My grandfather was a witness of the Second World War and told us about the past. But it was just always incoherent. When I found Meminto Stories, I bought him an account and he got the questions. Every now and then I sat down with him and we talked about some stories. When the book was finished (I didn't have to help much with the layout, everything was ready), we were really happy because now we have a lasting memory not only of him, but also of all the time from before.
In a few minutes you can already write down your first stories.
Not right now, but maybe later?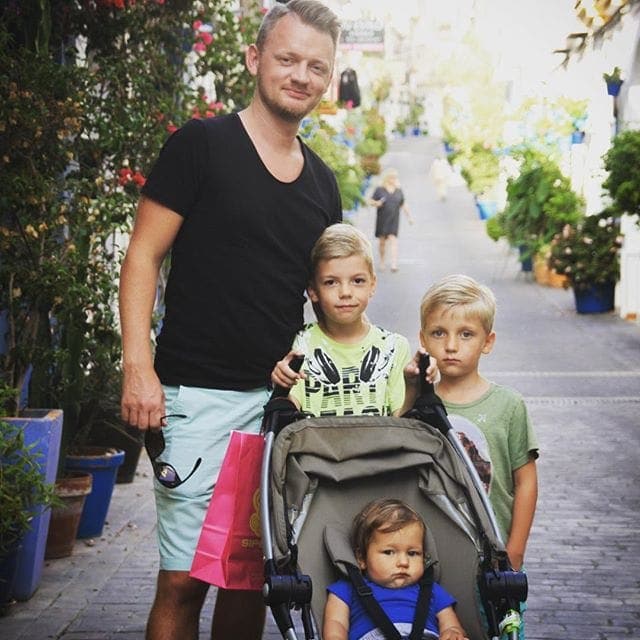 Albert, father of 3 boys &
Founder of Meminto Stories
Meminto Stories is my personal concern against forgetting. Because our time passes so quickly, because we like to look back on experiences and also because diseases like dementia are spreading more and more, I would like to do something about it. With every book you create, you help to do so.
Thank you for participating!