The end of the year – an opportunity to look back on the year with Albert Brückmann, Founder, Owner and CEO of Meminto.
When exactly was Meminto founded?
Meminto GmbH was founded at the notary in May 2017. In my head it existed already since 2008, but the name for it became clear only in 2012.
What was the original idea behind it?
In an increasingly digitalized world, people are also accumulating digital goods more and more frequently. I myself once looked up how many passwords I've saved in the last 15 years alone: 2465! If I can't even manage this high number myself anymore, who should be able to after me? For this reason, I initially wanted to have a tool for myself, where I could store this important data independently of official bodies and store it securely. Along with that, I also needed a checking mechanism that would keep checking whether I was still alive. In the event of death, my data would then be sent to selected people to clarify anything that needed to be clarified. I developed Meminto: a dead man's switch with a digital safe that can encrypt data in a highly secure way (256-AES).
When and why was the topic focused on personal books?
I was accepted into the Startup Accelerator Cyberlab in Karlsruhe with this idea and was able to test its feasibility, scalability and, above all, its business model again and again in discussions with business angels and other advisors. It quickly became clear that it is difficult to really make money with it. Above all, the topic is still taboo – as long as you don't have to deal with it, you prefer to avoid death (Nevertheless, I later developed the idea even further and brought the original product to market as a WordPress plugin under the name "EmergencyWP"). However, what became clear in many conversations was that the emotional legacy was subjectively worth just as much to many people. That is, the stories and the life someone leaves behind. We started thinking about how best to capture stories of life and came up with the question-answer system that then morphed into "Meminto Stories." So Meminto asks very personal questions and prints a biography from the answers and stories at the end.
How is the customer base structured by gender and age?
Most of the authors on our platform are mothers who record growing up and stories with their children. Only in second place come people who report on themselves. Here, the genders are very evenly distributed.
What book categories are currently available?
We have found that you can lead really well with questions. Through your own life, through your shared family or married life. But books can also be written about deceased family members, as well as about travel or life with one's own parents as a teenager. So currently we have nine different books in our repertoire.
What is the most selected category?
The childhood book is chosen by most mothers because they are more suitable than photo books to record everything.
What has changed at Meminto in 2021, what has been added?
Technical, functional
The entire system has been greatly enhanced, the quality of book layouts has been increased, and operation has been simplified.
Users can be better motivated to provide more detailed answers through tips.
Initial discussions have been initiated with AI companies to automate the creation of answers.
App
A new app for iOS and Android makes it easy to capture stories and upload images on the go.
New books can also be purchased and started through the app.
 Personal
The team has been expanded by two additional employees, who primarily support the team in support and app development.
Homepage
The web presence was extended by a powerful store system, both in English and German language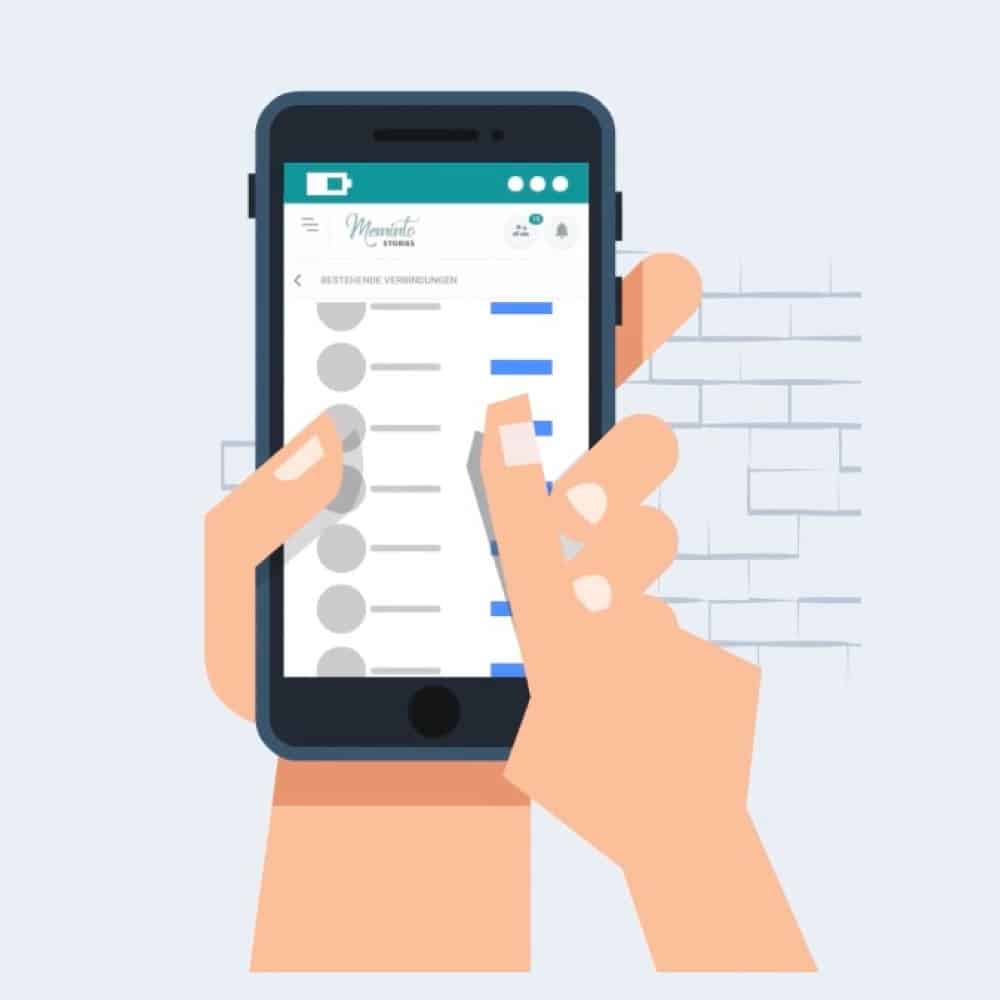 How has demand developed in 2021? Satisfied with the Christmas business?
Meminto is still a small startup, but through marketing on social media and working with some influencers, we have already been able to greatly increase our reach. Business since Black Friday and Christmas has been good, we're happy to grow healthily and offer top-notch and fast support to our customers.
What are the goals for 2022, what can customers expect, are there further ideas, improvements?
Next year, we will really ramp up marketing and also look to grow. Meminto Stories is still not well known, and we want to change that. In addition, we already have inquiries and orders from the U.S. – so we want to take a closer look at that market as well. There will certainly also be new products that include other target groups (we already have one or two ideas!). Apart from that, there are still some innovations that we want to test. If everything works out, we'll integrate them, of course, making "remembering" and "holding on" even easier.
Do you read every book printed at Meminto yourself?
No. Not even if I wanted to, because I don't have enough time to do that, nor would it fit with Meminto's privacy rules. We feel that our customers' stories are a leap of faith in Meminto that we will not squander. However, if requested by the client, we do offer proofreading; this is when someone from the team looks over the text to ensure the book is printed with correct spelling and grammar. We can also adjust or correct the images in this process.
Which story written with the help of Meminto touched you the most?
At the very beginning, I had asked my brother to fill out a Meminto book. So that we would have a prototype. Instead of working with made up stories, he wrote down stories that had really happened in our family. Since we have a gap of 10 years, I had moved out earlier and didn't know this story yet. I was totally amused because it was just funny. And I was totally amazed that I, my own brother, had not yet known about this story.
But I was also deeply touched by how all my relatives on my mother's side collaborated on the very first memory book written in honor of my grandpa. When he died of Corona earlier this year, I pulled out all the stops to restructure the life book so that the questions could be answered by relatives. It worked. 18 participants wrote down many stories about my grandpa, remembering beautiful, sad, funny and moving things. I was touched by that. And I am happy every time to see the book of about 130 pages on our shelf. A real biography about my own grandpa, which only exists because Meminto exists.
Has the rhythm of one question per week, 52 in total, become so established or are there frequent deviations from it?
It's hard to say. At the moment, we don't check who adheres to this rhythm. After all, it is not mandatory. Some users do it the same way, others manage to write the book in a week, others take more time. What we do check, however, is how many books are at a certain stage of completion, so that we know in good time what workload is coming up in print. But those are internal numbers that we don't publish.
Is the option of answering the questions by telephone frequently used?
Most people have a smartphone, even the older ones. Therefore: No. This option is also only meant to be a backup solution in case someone really doesn't have a screen he or she could work on. Then Meminto calls once a week and gives 5 minutes to tell about the story. Then at the end, another person has to look over it anyway to make sure that the speech recognition has converted everything into text correctly.
What are the main distribution channels?
At the moment social media. Especially on Instagram we talk to a lot of prospects and show ads.
What is the feedback from customers, are there already multiple buyers?
Yes, especially mothers who bought a childhood book also decide to buy a relationship book to make a surprise for their partner. Some moms also start a childhood book to write about 2 or 3 children at the same time, but then realize that it's much nicer when each child can hold their own book in their hands, and then buy another one. With our sibling discount, that's a great thing, too.
Most customers love the Meminto principle, but of course there are always people who can't do anything with it because they simply don't want to write or maybe our questions don't suit them sometimes. We have a solution for that, too, of course, because all our questions are interchangeable. You can also expand them, even using the invite function. That is, you invite other family members who can contribute their own questions and make the product really interesting for everyone.
How often does it happen that one and the same book is ordered in larger quantities or that a book is reordered unchanged?
So far, we have not had any cases of a really large number of copies. Someone bought a book of life for grandma and ordered 10 copies at once. This was so well received that the purchase was repeated and the grandpa also had to write one…
Is the proportion of single authors predominant, or is it also often the case that several authors write on one book?
It happens quite often that several people write on a book. The childhood book, for example, is often filled by both parents, as each can record their own view of things. In the relationship book there is also a great feature that shows the partner's answer only after you have added your own (this is of course optional). Life books, however, are mostly filled by single authors, although here I've heard that sometimes a grandchild does it together with the grandparents.
Is Meminto used within the family? Have you ever written a book yourself using Meminto?
Yes, as I said, we wrote the very first Meminto Stories memory book for my late grandpa. Of course, I also answered questions myself. But through my family's interaction with Meminto, I was also able to optimize a lot of things about the software because I was sitting right at the navel of the feedback. This really helped a lot to make the product better for all customers.
Where do you see Meminto in 10 years?
I want to do everything I can to ensure that Meminto Stories is not just another manifestation of a photo book. Personally, I live by the principle that a Psalm describes particularly well. In Psalm 90:12, I keep reading:
"Teach us to consider how few days of life remain for us, that we may gain a heart full of wisdom!"
In other words, I want Meminto Stories to sensitize people to think about their lives. About the values we live by. About what we can pass on to the next generation. I'm convinced that stories are the best way to do that – they've worked for thousands of years. And nothing will change in the future. With our questions, we can lead people who are really thinking deeply. And who knows, maybe one or the other will discover a missed opportunity in life and can then motivate themselves to stand up once again to make a difference.
That is exactly my vision: that Meminto manages to make a difference in the world, no matter in which country, no matter in which language. Because that's what's remarkable: What we do can be used all over the world.